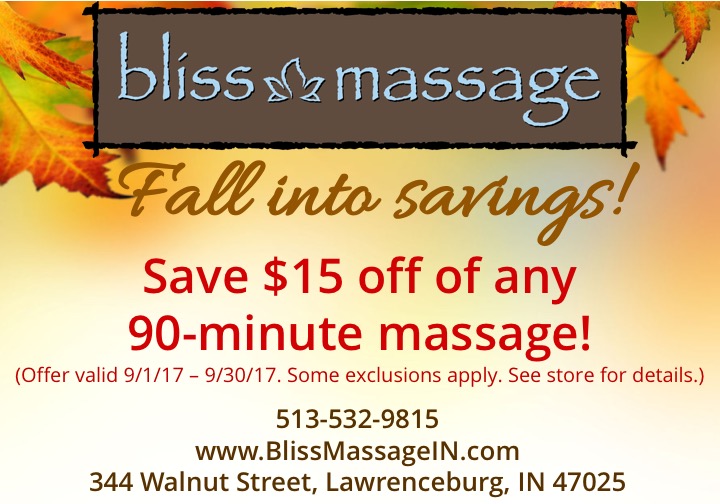 Autumn has arrived and Bliss Massage is kicking off the new season in a big way!
This month at Bliss, you can save 15% off of your 90-minute massage … that's a savings of more than $10!!
Looking to get into the seasonal spirit? Add the enticing scent of pumpkins, cranberries and more to your sessions! Receive a pumpkin scented Swedish or Therapeutic Massage; Exfoliate your skin with a Cranberry or Pumpkin Body Polish; Get an Enhancement with a Foot Scrub to rejuvenate your tired summer feet or an Autumn-Scented Aromatherapy will help you savor the season.
An important note…
Soon, Bliss Massage will be changing it's hours to accommodate our higher demand for massages. Bliss will still be open for office hours, but for a shorter duration each day. I am so grateful to everyone for spreading the positive words about Bliss and am excited to continue to grow in the community! Be sure to watch here on our Website, Google, Yelp, Facebook, and other Social Media channels for the switch.
The new hours will be:
Tuesday – Friday: 12:00 – 6:00
Massage by Appointment with additional availability for morning, evening & Saturday appointments.
And finally – Bliss will be closed Sunday, September 24th through Monday, October 2nd
due to the Lawrenceburg Fall Fest street closures. I hope everyone gets to stop by the festival,
listen to some music, and have a wonderful time. You will still be able to contact me via
call, text, or email for questions and scheduling. Thank you.