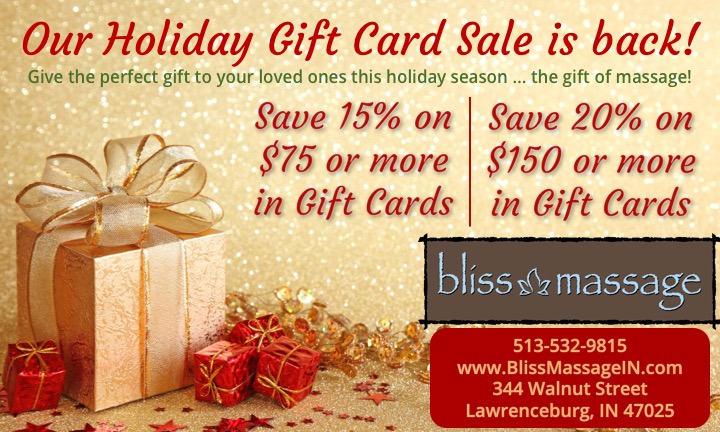 Bliss Massage has the perfect present for your loved ones this year … Bliss Massage Gift Cards! Pamper those special people on your list with the gift of wellness and relaxation. Not sure what type of massage to get them? That's ok! They can apply their Gift Card toward any of our massages so that they receive a truly customized experience from our Signature Services that relax and heal, to Heated Services perfect for a cold winter day, or even a luxurious Spa Service.
*While Bliss Massage does have office hours, we are a busy, by-appointment business. Please feel free to call ahead to find a good time to purchase your Gift Cards, or follow us on Facebook for day-to-day availability so you know when we will be available to help you.
You can find us on social media here.
---
SPECIAL HOLIDAY HOURS
At Bliss Massage, we work hard to stay available so you can receive your pre-holiday massages and finish up your holiday shopping with gift cards. Once all the hustle and bustle quiets down, our office will close for a short time so we can be with loved ones this season.
Since the Christmas Holiday falls on a Sunday and Monday when Bliss Massage is closed,
we will close to start off the new year from Friday, December 29th through Wednesday, January 3rd.
You can still call, text, or email and we will be happy to help you with scheduling or other inquiries, but we will be away from the office and not seeing clients during those days. Thank you for understanding.
---
May each and every one of you have a fantastic Christmas season, and we look forward to starting 2018 refreshed and rejuvenated with you!