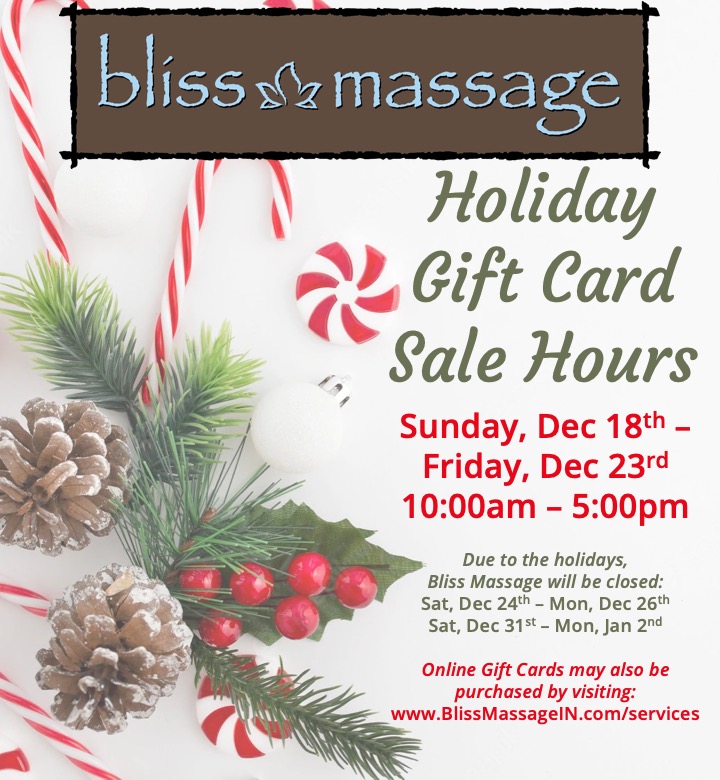 Struggling to find the perfect gift for someone on your list? Get them the gift that keeps on giving with a Bliss Massage Gift Card! Pick up an in-store card December 18th through December 23rd from 10:00-5:00 daily or send an online card via this link.

Bliss will be closed for each holiday:
Christmas: Sat, Dec 24th through Mon, Dec 26th
New Year's: Sat, Dec 31st through Mon, Jan 2nd
---
Seasonal Massage Service
Warm up your winter with the Candle & Stone Massage! In this delightful service, enjoy the luxury of hot stones massaging an all natural candle oil into your skin for a multi-sensory treatment that will leave your skin softer for days afterward! Schedule this appointment soon – it's only available through February!
$80 / 60 minutes
$110 / 90 minutes
---
'Tis the season … for colds and flus!
I want to give a friendly reminder that there is NO PENALTY for canceling your appointment due to illness, but trying to hide your symptoms in order to get a massage will get you a permanent Bliss ban. 
I know it stinks to miss your massage appointment, but it certainly beats spreading your germs around to myself, or other clients who are coming in behind you. Not to mention, getting a massage while sick can increase your symptoms causing you to feel worse as a result.
---
Thank you for another great year of business –
Merry Christmas, and Happy New Year!