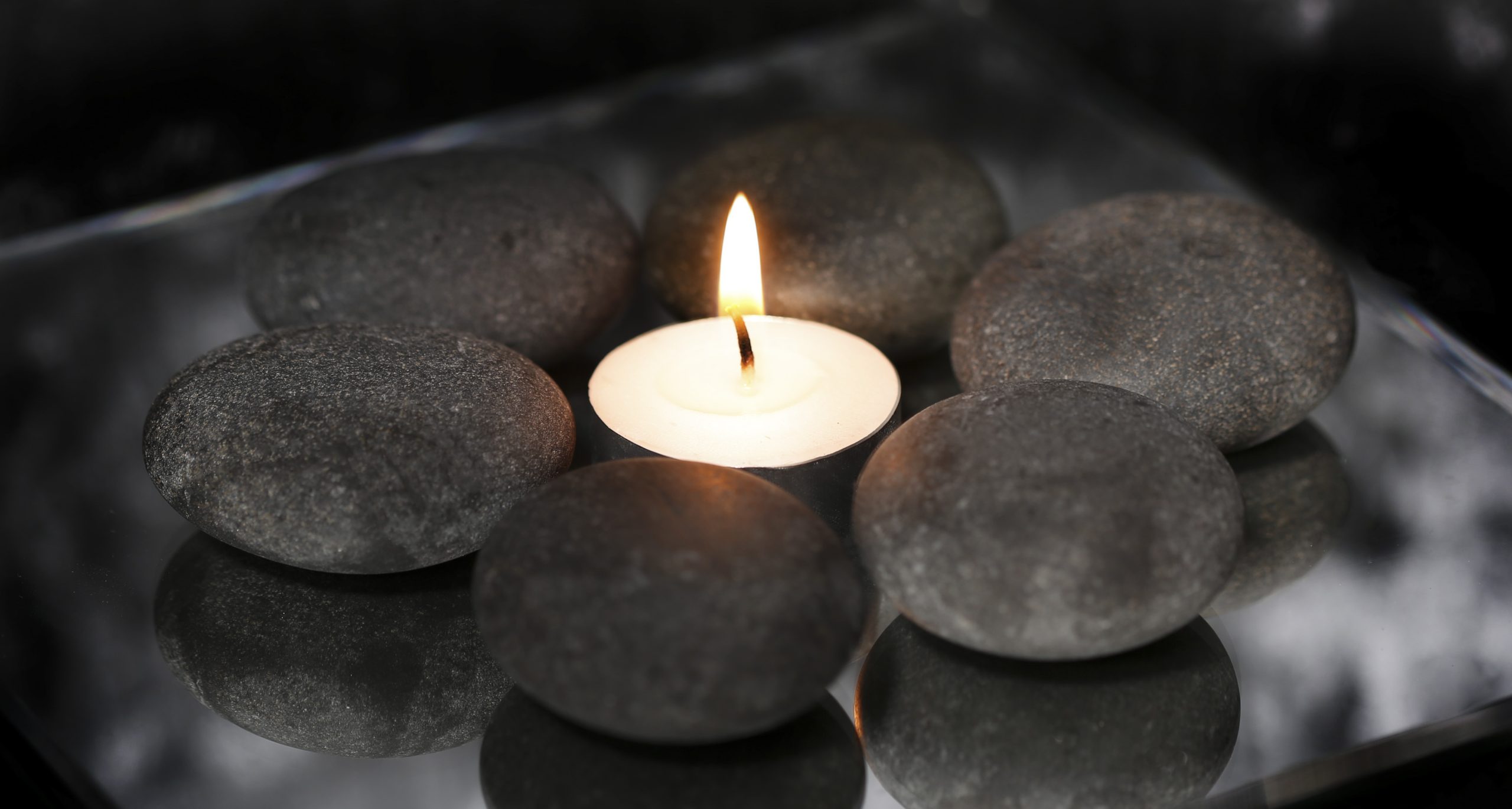 It's unfortunately been too long since my last update, so here's a brief overview of everything happening now at Bliss, including some important changes that could affect your next visit.
---
Winter's Seasonal Massage Service
Warm up your winter with everyone's favorite … the Candle & Stone Massage! In this delightful service, enjoy the luxury of hot stones massaging an all natural candle oil into your skin for a multi-sensory treatment that will leave your skin softer for days afterward! The best part? It's available to book December 1st so don't miss out – reserve your session today!
$80 / 60 minutes
$110 / 90 minutes
(Autumn's Pumpkin & Spice Massage will be going away in two short weeks! If you'd like to try this aromatic service, be sure to upgrade your appointment by November 30th!)
---
A few brief updates…
Bliss got an upgrade!
Over summer Bliss got a major face lift and is looking a lovely shade of blue these days. I wanted to officially announce the change here (although many of you have already seen the new pain job in person!)
New services coming soon!
This year I invested in new therapeutic massage equipment and classes. While I'm still working to hone these skills and incorporate them into my services, I'm excited to tease these new services coming in 2022!
A sad note…
Recently we had to say goodbye to our furry friend & unofficial Bliss mascot, Ruby. She was a wonderful part of our lives, and some of you got to enjoy her company during the early days of Bliss. Thank you to those of you who have reached out with kind words and sympathy.
---
Some Important Changes Happening at Bliss
Through summer, several complications came up concerning appointments and scheduling that have lingered into the fall months. I'm going to briefly highlight these issues along with some changes that will affect your future visits – please reach out if you have any further questions or concerns.
Cancellations
Lately I've had a surge in last minute cancellations – some valid emergencies, many not. This greatly impacts business at Bliss, and is made even more frustrating by the multiple reminders I send out ahead of each appointment (please let me know if you do not receive those), so as a reminder:
Any rescheduled, canceled, or missed appointment made within 24-hours of your scheduled visit is subject to a $25 fee.
Credit Card Requirement
Due to the increasing number of late cancellations, I will once again start requiring a valid credit card number, or Bliss Massage gift card number, on hold to reserve an appointment. This worked well before the pandemic, and I see it working well now also. Your card will not be charged unless you violate the Bliss Massage cancellation policy (see above).
Illness
Being ill is always a valid reason to cancel your appointment! If you are contagious, you could spread germs to me and any client who is seen after you. If you don't feel well, stay home. This always becomes an issue this time of year, so to help keep everyone feeling great through the holidays I'm going to start asking a few short wellness questions when you arrive for your appointment.
COVID-19
Many of you reading this have been impacted by covid – whether through loss, hospitalizations, or even being home sick with it yourself. Please know that I am maintaining nearly all the precautions put into effect at the start of the pandemic to try and keep as sanitary an environment as rationally possible.
Another way covid has hit home is through the turmoil it's caused in the economy. This is a stressful time to be in the world, and it's easy to want to vocalize those stresses in the massage room. However, this isn't conducive to your relaxation & wellness so from now on, unless you have a question directly pertaining to your massage, I will no longer entertain any conversations about covid or the politics that surround it during your session.
Vaccinations
Many of you reading this are planning to receive one or more vaccinations this fall to keep healthy through winter. Vaccinations can not only lower your immune system in the initial days after receiving them, but they can often cause delayed negative physical reactions as well that can be exacerbated by a massage. For this reason, please try to wait at least 48 hours after receiving a vaccine before receiving a massage to get the most from your session.
Potential Scheduling Changes
Above I mentioned the loss of my dog, Ruby. Since I opened Bliss, I've tailored my schedule to meet her needs. Now that I no longer need to prioritize her bathroom schedule around my work day, I hope to have more flexibility for bookings. Over winter, I plan to sample different daily hours to accommodate the large number of clients who request morning appointments. I'll still book by appointment Tuesday through Saturday, but there will be trial & error until I find a new routine, so please bear with me as I work to find the best fit for everyone.
Loyalty Discounts
The above reasons, along with many more unmentioned, have been building up to my decision to begin phasing out loyalty discounting. Effective immediately, loyalty perks (rebooking & series discounts) will no longer be available to new clients or to existing clients that are not currently receiving them. I will also begin to become more strict about the conditions of the discounts (such as coming in every 6 weeks to receive the rebooking rate or using up your package within a year to receive the package rate) – if you fail to meet these requirements, you will no longer qualify for loyalty perks. This is a difficult decision that's been long overdue, but a necessary one to prevent me raising my rates across the board.
Thank you for your cooperation & understanding on all of the above matters!
---
Seasonal Hours
Between the holidays falling on weekends this year along with everyone planning their pre-covid large family gatherings, I plan to take a few days off after each holiday (as I did last year) to allow for some isolation days post-holiday. My hours will be as follows:
Thanksgiving
Closed: November 25th – 29th
(reopen Tuesday, November 30th)
Christmas
Gift Card Sales Only (no massages): December 19th – 23rd
Closed: December 24th – 27th
(reopen Tuesday, December 28th)
New Years
Closed: December 31st – January 3rd
(reopen Tuesday, January 4th)
---
Happy Birthday, Bliss Massage!
This month I'm celebrating 5 years in business, and it's all thanks to the outstanding support and patronage of clients like you. Thank you for being so wonderful in helping me to stay a part of the Lawrenceburg community. I can't wait to see what the next 5+ will bring!
---
Gift Cards
No matter how you celebrate the holidays, let your loved ones know their wellbeing matters with a Bliss Massage Gift Card! Buy online or in store – or make it easy for your loved ones to do the shopping for you by sharing the link below!
In Store
Call ahead to avoid waiting, or stop on these special gift card only days!
Sunday, Dec 19 – Thursday, Dec 23 from 10:00 – 5:30 each day
Online
Buy anytime, day or night here!
---