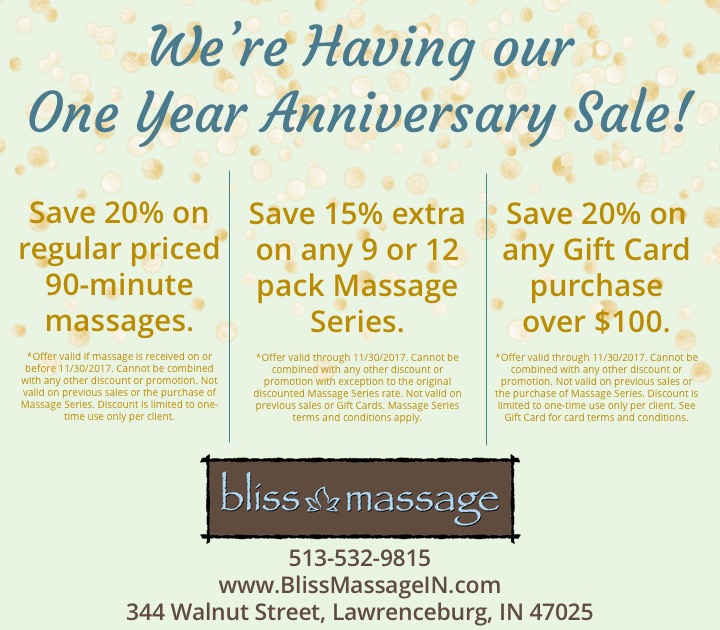 We are so excited to reach our first year in business at Bliss Massage, and we have all of our loyal clients to thank! To honor this event, Bliss will be hosting anniversary sales all month long!
Stop in and save before these deals are gone!
With Veterans Day coming, Bliss would like to show its appreciation by offering 20% off today and every day for any current or past military member. Thank you to all who serve.
Be sure to find Bliss Massage at the following events this month:
Holiday Shopping Expo (November 17 – 19): Find Bliss as we get into the holiday spirit with Lawrenceburg's Holiday Shopping Expo! While you shop, the show will offer pictures with Santa, live reindeer, holiday performances, wine tastings and more. Bliss Massage will be joined by Aurora Therapeutic Massage to provide on-site massages, sales, and giveaways. Be sure to find us at booth 68 in the lobby by the escalators. Find out more about the show here.
All Saints Parish's Gobble Wobble 5k (November 23): Bliss is happy to help sponsor this year's Gobble Wobble 5k. Money raised will go to local food pantries, so help your health while helping a good cause – you could also get a coupon to Bliss Massage! Get more information on how you can participate or contribute here.